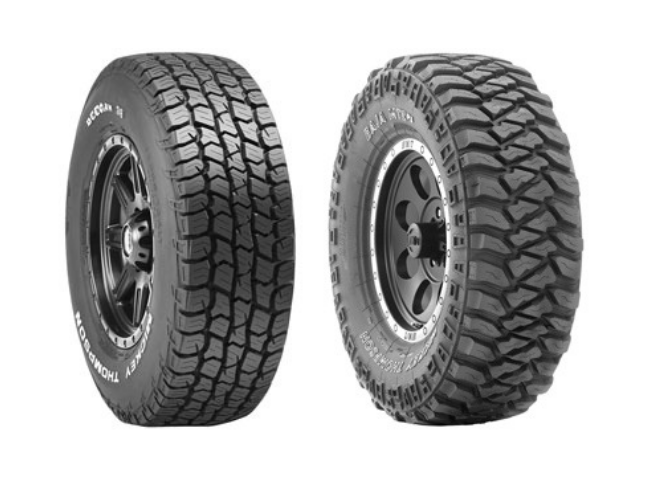 Getting to Know Your All Terrain & Mud Tires
Deciding between all terrain and mud tires can be tricky to navigate. With letters like AT, MT, XT, and more it's hard to know what they all mean. Here we provide the right information to help you know which all terrain and mud terrain tires are the best for you- and best for your next adventure!
All Terrain Tires- Versatile in Any Conditions
All terrain tires are specifically designed for those who want an aggressive style tire that can do a little off-roading with the main purpose being highway and street driving. These tires have the ability to travel on landscapes with sand, light gravel, dirt roads, and snow. Buying all terrain tires online is a great way to start your next traveling experience!
All terrain tires are meant for work and play, and are constructed so they do not create excessive vibration while rolling on flat surfaces. All terrain tires are great for the person traveling to work during the week but also some fun on the weekends.
Innovative technology helps to maximize the versatility of many all terrain tires. For example, the Atturo Trail Blade A/T provides a smooth pavement drive with limited road noise and a comfortable highway drive. This tire also features a special rim guard that keeps it from being damaged while facing off-road obstacles.
The Mickey Thompson Deegan 38 All-Terrain has special stone ejectors to rid the tire of stones and debris, along with a 2 ply body cord for increased durability. The tread element tie-bars improve stability and responsiveness when driving on everyday roads.
For more information see our article about the top 5 all terrain tires!
Mud Terrain Tires- Going to the Extreme
With mud terrain tires, you will often notice a more intense and dramatic tread, which is used to grip the dirt and mud filled terrains they are designed for. The dramatic tread designs of these tires aren't just for looks, they have a specific and powerful purpose.
If you're looking to conquer rocky, steep, mud and dirt filled landscapes, a mud tire could be a better choice for you than an all terrain tire. This is personal preference of course, but mud terrain tires provide better off-road traction in extreme, deep mud, dirt, rock and sand filled terrains. They are meant to provide stability and durability throughout the toughest adventures.
Similar to all terrain tires, mud tires are also engineered with a multitude of different technology enhancements to maximize performance.
Mud terrain tires are known to be more noisy on flat surfaces, like highway roads, but today's best mud tires are designed to combat the negative aspects of traditional mud tires.
The Nitto Mud Grappler, for example, provides serious off-road traction with its massive side lugs and 3-ply polyester sidewall construction. So if you're thinking about facing the most challenging off-road obstacles, this extreme mud tire is a great choice.
Another mud terrain tire, the Mickey Thompson Baja MTZ P3 has a rugged silica tread compound improving its performance and longevity, along with four-pitch SideBiter technology that provides sidewall protection. If you're headed up into the mountains or want to explore a rocky desert landscape, a mud terrain tire like this will keep you going without any hesitations!
To buy all terrain or mud terrain tires online, Click Here !