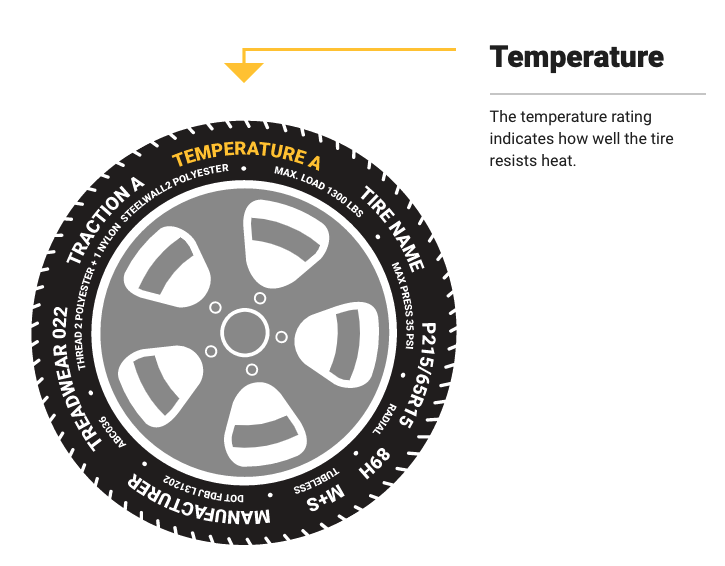 Tires are marked with many letters, numbers and symbols on their side walls that are intended to help tire buyers make the right choices for their vehicles. Yet, the jumble of characters can confuse even the well-informed tire buyer.
In this guide, we explain one set of characters on your side walls: tire temperature grades.
The US Department of Transportation requires manufacturers to include temperature ratings on tires as part of the Uniform Tire Quality Grade (UTQG) rating system. UTQG includes three sets of ratings: treadwear on tires, tire temperature, and tire traction.
Tire Temperature Ratings Explained
Tire temperature simply refers to the tire's ability to resist heat. Tires sold in the US are rated A, B or C. The National Highway Traffic Safety Administration (NHTSA) oversees tire safety ratings and requires that all passenger tires must earn at least a C rating. Tires rated A are not necessarily better than tires rated B or C — any tire rated A, B or C is considered to be safe for North American roads.
So, then why do tires need a temperature rating? Because tires get hot when they are on the road, and poor quality tires can blow out, deteriorate and become hazardous if they overheat.
The temperature grade of tires is how well the tire holds up under extreme conditions. According to the NHTSA,
62% of tires sold in the US are temperature rated A and can "effectively dissipate heat" at speeds greater than 115 miles per hour.
34% are rated B and can effectively dissipate heat at speeds between 100 and 115 mph.
4% are rated C and can effectively dissipate heat at speeds between 85 and 100 mph.
Temperature A tires mean the tire runs cooler for longer distances at higher speeds (115 mpg and higher). It doesn't mean that temperature B tires or temperature C tires are of low quality or unsafe. In fact, you might consider A, B and C as a "good, better, best" when it comes to temperature ratings. Temperature B tires mean they are better than C tires, but not as temperature durable as A tires.
What Is the Max Tire Temperature
Although this article on Car and Driver is more than 20 years old, it explains well how tire temperature works.

Source: caranddriver.com
The maximum temperature for tires, according to commercial vehicle safety company Bendix, is around 195 degrees Fahrenheit. Truck drivers in particular are more concerned about tire temperatures because they drive longer distances and the added weight from their cargo puts more pressure on tires.
The vast majority of passenger vehicle drivers in the United States do not need to worry about their car tires heating up over 195 degrees.
One of the things you do need to think about is temperature ratings with certain tread types. The temperature range for winter tires is much lower than the range for summer tires. You don't want to run winter tires year-round, especially if you live in a four-season climate. Winter tires are designed to grip the road in icy, snowy, and slushy conditions. They are not designed for high temperatures, so they will deteriorate quickly.
Tire Temperature Rating Chart
| | | |
| --- | --- | --- |
| Temperature Grade | Speed in MPH | % of Tires Sold in US |
| A | Over 115 mph | 62% |
| B | Between 100 and 115 mph | 34% |
| C | Between 85 and 100 mph | 4% |
Source: NHTSA
As the tire temperature grade chart explains, tires rated A are expected to have the most durability when driven in high temperatures over 115 mph. Interestingly, UTQG ratings are assigned by manufacturers — not by the US DOT or NHTSA — and are based on laboratory testing.
Where can you find your tire temperature ratings? Look at the outer wall of your tire and find the TEMPERATURE stamp. You should see an A, B or C.
As you shop for tires with Tire Agent, you will find the UTQG ratings in the SPECIFICATIONS tab. Enter your vehicle make, year, model and trim level and Tire Agent's tire-matching technology will suggest the right tires for your vehicle. Browse the brands and select any to learn more about them.