(Original post date: August 31, 2018)
Until the day everyone is driving electric cars (or better yet, teleporting), fuel economy will remain a deciding factor when selecting tires. Every mile per gallon counts, which is why it's important to select the correct tire for your vehicle, driving style, weather and road conditions.
Tread type has a definite effect on gas mileage; so if you're thinking about a set of all-terrain tires, you need to consider how they'll change what you pay at the pump as well as how they will change the way that you drive.
What Does All Terrain Tires Mean?
The meaning "all terrain" refers to tires that provide a smooth drive on pavement with extra grip in the deep snow, gravel, and even sandy beaches. All terrain tires mean they are designed for all-weather capability and some off-road adventures.
If your current vehicle takes you off the beaten path, then a simple highway tire isn't going to do you any good. This is why many major tire manufacturers have made the move to tires with low rolling resistance, including all terrain tires.
What is the difference between all terrain and highway tires?
The major difference between A/T tires and highway (also known as street) tires is all-terrain varieties are designed to grip a variety of surfaces including off-road conditions. As a result, you might forefeit a quiet ride and some fuel economy. That said, today's manufacturers of all terrain tires have made big strides in maximizing fuel efficience for A/T tires.
Highway tires are designed more for fuel efficiency, smooth rides, and longer tread life.
A word about mud terrain
Mud terrain tires are designed for vehicles that spend most of their time off road, and because they have wide channels, they aren't good in wet pavement and rainy conditions. Choose mud terrain if you've got an adventure vehicle or work truck that spends the majority of time in muddy terrain. Mud terrain tires are not designed for pavement -- they're loud, lack on-road traction, and aren't fuel efficient.
Do all terrain tires last longer?
All terrain tires tend to have shorter lives than highway and street tires, because of their treadwear. Check the manufacturers' warranties to get an idea of how long the tires are expected to last. Any tire's life also depends on the driver, too. If you push your vehicle to the max -- off-roading, for example -- you'll wear them more quickly.
Do All-Terrain Tires Affect Fuel Economy?
Fuel efficient tires are specifically designed to reduce the amount of effort required for your tires to keep rolling. Tires designed with low rolling resistance save you money at the gas pump by reducing overall fuel consumption. All terrain tires won't have the same fuel efficiency as passenger car tires, but still don't increase fuel consumption as much as their mud terrain cousins.
Aggressive all terrain tires have a different tread pattern than highway tires, which means they are going to grip the road (and off-road), better. Consequently, all terrain tires have a greater rolling resistance than their pavement-bound counterparts. They also have a larger effect on fuel economy.
The consensus is that on average, all-terrain tires decrease fuel economy by about 3% compared to highway tires.
Are All Terrain Tires Worth It?
Let's do the math. If you drive 15,000 miles a year while getting 20 mpg, and the price of gas is $3 per gallon, you'll spend $67.50 more per year with a set of A/Ts. Not significant, but there's no reason to spend extra money if you don't have to.
All Terrain Tires vs Street Tires
Tread design can have a much greater effect on gas mileage. For example, a really aggressive, heavy all-terrain tire can cause a vehicle to get 1 to 2 mpg less than it would with an ultra-fuel-efficient highway or street tire.
This is why many tire manufacturers have designed fuel efficient tires and not just highway and street tires. Many tire manufacturers have jumped on board to make good all terrain tires and even mud terrain tires designed for increased fuel economy. Good all terrain tires don't have to be fuel sucking monsters, which is why some of the best all terrain tire manufacturers have created fuel efficient A/T models.
Are A/T tires right for you?
If you're taking your vehicle off-road, you'll certainly need an all terrain tire. They are made for smooth driving on the highway with enough bite to grip harsh landscapes like beaches, gravel and snow.
Switching to all terrain tires isn't necessarily going to increase fuel economy. But manufacturers are making it possible to have your all terrain tires with low rolling resistance tires, too.
Ask yourself a couple of questions: do you have a four-wheel drive vehicle? Secondly, do you plan on taking it off-road? If you answered "no" to either of these, stick with a highway tire … and even better, tires designed specifically for fuel efficiency, unless you prefer the look. An aggressive looking tire may not be necessary if you are looking to save more money at the gas pump. All-terrains are designed for trucks and SUVs that venture off pavement on a regular basis. But if you answered "yes," you'll want to check out the tires listed below.
For those who are unwilling to give up their all terrain adventures to a more fuel efficient tire, there are options. Fuel efficiency is a crucial topic in many industries, and tires are no exception. You won't have to give up your love for all terrain exploration with these A/T tires developed for fuel economy!
If you choose an all-terrain tire with extremely low rolling resistance – like the Nexen Roadian AT Pro RA8 – gas mileage loss will be next to nothing. On a scale from 1 to 10, this well-designed tire scores a fuel efficiency rating of 8.10. That's exceptional, especially for a tire with enough grip to go off-road. With optimal performance in muddy situations, this all terrain tire has a sipe-in-groove pattern that also prevents stones and debris from getting lodged in the tread. This unique pattern also helps to expel mud and dirt from the tread to keep you going through tougher terrains.
The Continental TerrainContact A/T is known for being fuel efficient. With Continental's TractionPlus™ Technology this tire offers all terrain capability with off-road traction and durability. Excelling in wet braking and providing a comfortable ride, this aggressive all terrain tire is an exception to the rule. Continental isn't the only manufacturer upping their fuel efficient all terrain game either- more and more of the best all terrain truck tires are being designed with low rolling resistance tread patterns.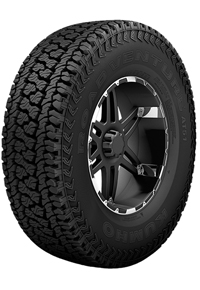 As one of the first fuel efficient all terrain tires, the Kumho Road Venture AT51 is designed for long tread wear. The dual silicone compound is engineered to cool quickly and wear evenly, as well as promote fuel efficiency. Complete with the 3-Peak Mountain Snowflake Symbol, this tire is rated for severe snow and ice.

Ready to take on winter, this tire features an angled chamfer and tapered tread block that promotes self cleaning and improves grip in deep snow. Muddy, wet work surfaces are no problem for this Kumho tire. It's all terrain capability can take on inclement weather; and it will give you a quiet and comfortable drive on paved roads.
If you thought you could only get the best all terrain truck tires with low rolling resistance, this mud terrain tire will take you by surprise! The Dick Cepek Extreme Country offers low rolling resistance and mud terrain capability! This is made possible with a special Two-Ply Next Generation High Tensile (HT) Body Ply Cord which enhances sidewall strength without adding weight, rolling resistance, heat buildup, or ride harshness. Manufacturers like Dick Cepek, Continental, and Kumho are pulling their weight in the stride to increase fuel efficiency- even when off-road.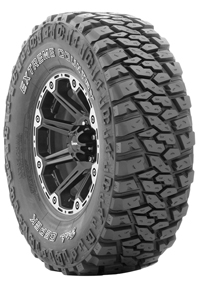 Though these tires are designed for maximum fuel economy, they are not as fuel efficient as highway tires. Not only do A/Ts adversely affect fuel mileage, but they also wear out faster than highway tires. So if you're not in need of all terrain tires, you can stick with highway tires, and even find the ones that are most fuel efficient.
The verdict: the overall price of ownership is less for a highway tire. Only switch to all-terrains if you plan on taking frequent trips off pavement or if aesthetics are more of a priority than cost.