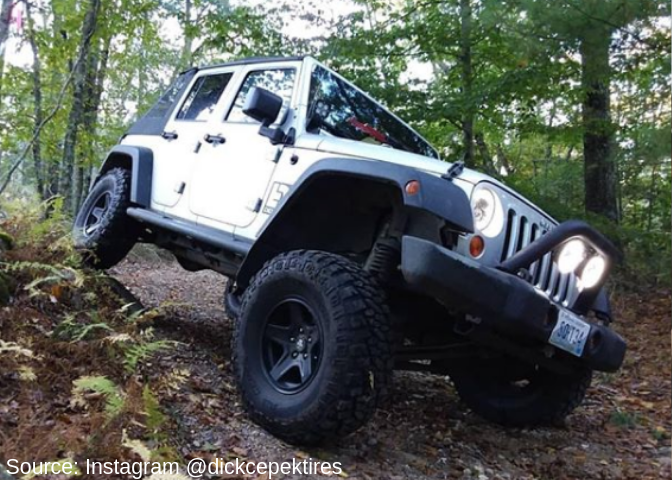 Dick Cepek, known for their outdoor and adventure style tires was one of the first off-roading enterprises. Their highway terrain, all terrain, and mud terrain tires are engineered for high quality and reliability. This Dick Cepek Tire Buying Guide breaks down each tire so you can choose the right Dick Cepek tires online!
Price ratings compared to other models sold by Tire Agent
All Terrain & Mud Terrain
Buy Dick Cepek Trail Country tires online:
Category: All Terrain
Price: 💲💲
Quality Rating: ⭐ ⭐ ⭐ ⭐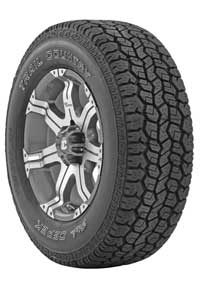 This true all terrain tire is responsive in a variety of conditions. Highway and local street driving is no problem for this tire. The five rib tread pattern transfers energy across the surface of the contact patch for responsive handling. The tread channels have a variable-groove pattern that disperse water, mud and snow away from the tire. Elements in the tread help to resist stone retention and automatically adjust to surface changes in off-road conditions. Backed by a 50,000 treadwear mileage warranty, the Trail Country is an all terrain tire you can count on.
Perfect for: Someone needing the ability to explore off-road terrains with conditions such as gravel and light snow, but also want a comfortable drive on highways and local streets. Adjusting to uneven surfaces such as light gravel, bumpy roads, and even snow, this tire is meant for the person who wants some off-road ability in addition to a smooth and comfortable drive.
Buy Dick Cepek Fun Country tires online:
Category: "Hybrid" All Terrain & Mud Terrain
Price: 💲💲
Quality Rating: ⭐ ⭐ ⭐ ⭐
Like many other tire manufacturers, Dick Cepek has engineered a "hybrid" tire- combining the qualities of an all terrain tire with some of the qualities of a mud terrain tire. Whether it's on or off-road, this tire can handle more trivial environments. This tire delivers excellent off-road traction and superior durability. It's unique tread pattern design features narrow sipes that increase surface grip. The wide alternating tread grooves create a firm contact patch that responds to changing terrain. This tire also has a 45,000 treadwear mileage warranty.
Perfect for: The person wanting an all terrain tire that delivers more off-road capability. With stone ejector ribs and puncture resistant sidewalls, this tire can handle the rocky roads ahead. You won't worry about a noisy drive either, the special computer optimized pitch of these tires delivers a quiet ride on the streets. So if you're looking for a tire that can take you off-road while providing your light truck or SUV with a comfortable ride this tire is for you!
Buy Dick Cepek Extreme Country tires online:
Category: Mud Terrain
Price: 💲💲💲
Quality Rating: ⭐ ⭐ ⭐ ⭐ ⭐
This extreme mud terrain tire has everything you need. The proven tread compound features extra tread depth that provides superior traction and a long life. Two-ply Next Generation High Tensile (HT) Body Ply Cord enhances sidewall strength and durability without adding weight, rolling resistance or any ride harshness. Self cleaning shoulder scallops provide ultimate traction with the Extreme Country. The large area tread elements also provide a greater contact area for improved handling and a quieter ride.
Perfect for: The person looking for a true mud terrain tire! Responsive handling and grip on irregular surfaces is no problem for these tires. Mud, loose soil, sand and slush are no issue when it comes to the Extreme Country. The self-cleaning abilities will get you through the deep mud and dirt and back home again after your adventure, and all with a quiet ride!
Click Here to buy Dick Cepek tires online at Tire Agent!