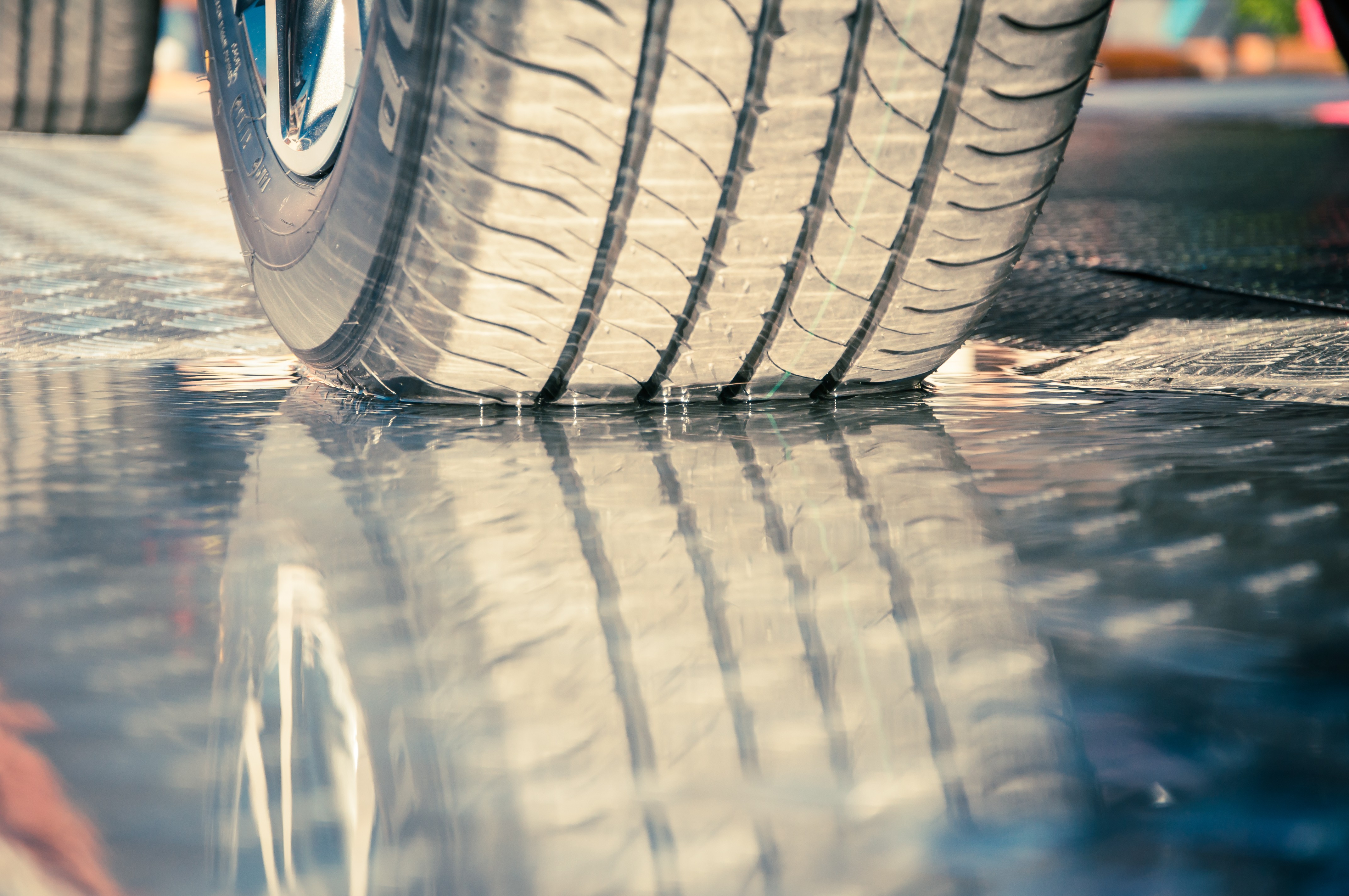 The National Highway Traffic Safety Administration, a branch of the United States Department of Transportation (US DOT), developed something called the Uniform Tire Quality Grade (UTQG) standards back in the 1970s to help tire buyers understand what they are buying.
UTQG measures three things: tread wear, traction and temperature.
The important thing to know is that the USDOT does not conduct the tests and assign ratings; manufacturers test and assign their own UTQG ratings. The NHTSA does verify the accuracy of the manufacturers' ratings.
There is a consensus that the tire UTQG ratings don't always match up with reality because of how tests are performed. We'll discuss the meanings of each rating and how we use UTQG data to give you a base to make a tire purchasing decision.
Are All Tires UTQG Rated?
UTQG tires ratings are only required in the United States for passenger tires, but they are not required for certain types of tires including snow/winter, deep-tread light truck tires, and run-flats as well as certain other tires. And, of course, your trailer tires and some other utility tires are not required to be UTQG rated.
What UTQG Treadwear Measures
Generally speaking, tires with a higher treadwear rating are expected to take longer to wear down under normal driving conditions. A lot of tire shoppers tend to base their purchase decisions solely on treadwear, and we are not saying you should ignore this number — but we are saying that you should consider several factors when purchasing tires in addition to treadwear.
Why? Because tire manufacturers are allowed to self-report their ratings, and also because the testing to estimate tread wear is extremely limited.
Here's how tires are tested for tread wear: There is a testing facility in western Texas where the tire tests are conducted. Tires are mounted on a special convoy of vehicles, where the commercial tires are tested against a control group of tires. They're driven 7,200 miles and then compared against the control group. The control tire is always assigned a grade of 100. So, if a tire is rated 400, it is expected to wear four times longer than the control tire.
The testing process gets a little murky. Manufacturers are allowed to choose their own base tires. So Company A's control tire might differ from Company Z's control tire, even though they're both testing all-season SUV tires, for example. And, of course, the composition of their own brands of tires differ as well. So you could say it is not necessarily an apples-to-apples (or rubber to rubber) comparison.
We crunched the numbers from the USDOT's database of manufacturers and found that across all brands, the average UTQG wear varies based on the intended use of the tire.
Tire Agent's UTQG Chart
| | |
| --- | --- |
| Tread Type | Average of UTQG Wear Across All Brands |
| All Season | 504 |
| All Terrain | 506 |
| All Terrain / All Season | 546 |
| All Weather | 509 |
| Highway All Season | 428 |
| Highway Terrain | 480 |
| Highway Terrain All Season | 632 |
| Highway / Regional | 600 |
| Mud Terrain | 413 |
| On / Off Road | 474 |
| Passenger All Season | 554 |
| Performance All Season | 429 |
| Performance Summer | 264 |
| Performance Touring All Season | 509 |
| Summer | 323 |
| Touring All Season | 546 |
| Touring Summer | 392 |
| Winter | 500 |
Does UTQG treadwear rating matter?
What you need to know as a consumer: Treadwear does not tell you how many miles a tire will last. Nor does it tell you whether it is a high-quality tire. For quality information, look at the warranty and other consumers' reviews. If a manufacturer offers an 80,000 mileage warranty, that's a signal that they are confident in their tire's quality.
A few things to note about tire warranties: If you file a claim with a tire maker, you might be asked to prove you've taken good care of your tires, keeping them properly inflated and rotated regularly. Learn more about how tire warranties work.
What is a good treadwear rating?
According to the National Highway Transportation Safety Administration, the arm of the USDOT that governs tires, only 15% of tires are rated below 200. Generally a tire that is rated that low is intended to be used for racing or a very specific and limited application.
25% of tires are rated 201 to 300
32% are rated 301 to 400
20% are rated 401 to 500
6% are rated 501 to 600
2% are rated above 600
What UTQG Temperature Ratings Mean
Tires are graded A, B, or C for heat resistance. The NHTSA says most tires are rated A; 62% of tires in the US are rated for high heat. This is important because the higher the temperature rating, the higher its ability to run safely at high speeds.
Temperature grade A = safe for speeds over 115 mph
Grade B = safe between 100 and 115 mph
Grade C = safe between 85 and 100
Tires sold in the US must meet at least a C standard.
What UTQG Traction Ratings Mean
Traction simply refers to the tire's ability to help a vehicle stop on wet pavement. The higher the grade, the better the tire is at stopping on wet pavement in a shorter distance. The ratings are: AA, A, B, and C. According to the NHTSA, 15% of tires are rated AA; 75% are rated A, and 7% are rated B. Only four lines of tires are rated C, and these are racing tires that are not intended for general consumer driving or everyday use!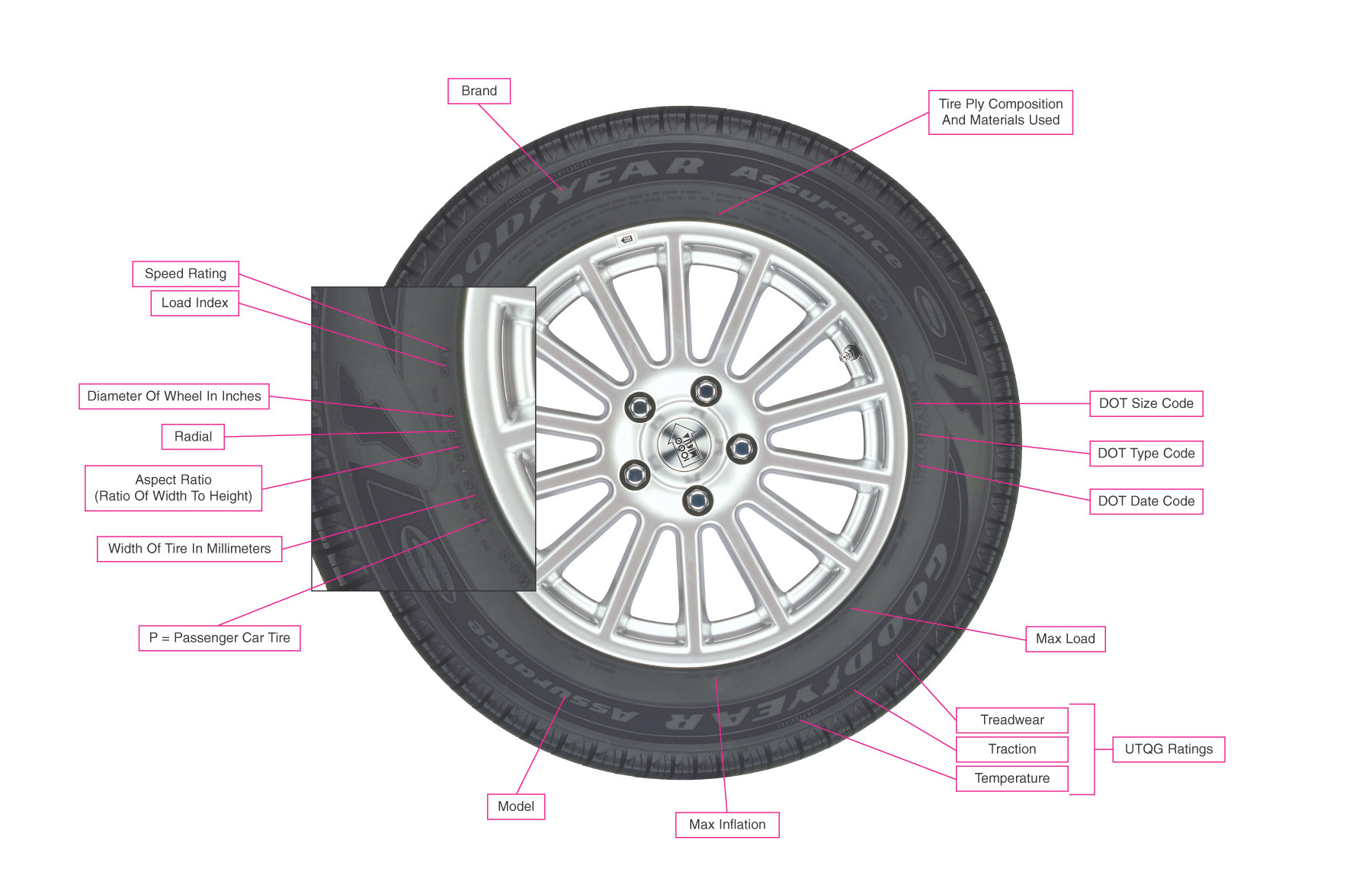 What Is a Good UTQG Rating?
Is a higher UTQG rating better? In a world where "the higher the rating the better" tends to be the rule, we're going to say, "Yes … but with a big HOWEVER …"
The UTQG rating measures treadwear, temperature and traction. HOWEVER, a low tire rating doesn't necessarily mean it's a bad tire. It simply means that when it was compared to a control tire, it met or didn't meet the control tire's treadwear, traction, and temperature.
If you don't put a lot of hard miles on your vehicle — say you're retired, it's a second car, or you work from home — then a mid-priced tire with a lower UTQG treadwear rating might be right for you.
If you spend a good part of your day commuting to and from work, you travel a lot, or you are just a fan of weekend road trips, then you're going to look for a tire that tends to handle well and reduces road noise, in addition to having higher expected treadwear.
If you drive a sports car or a high-performance vehicle, then you'll want to find tires that match your driving style, even if it is a little on the aggressive side. Maybe you live near the Pacific Coast Highway or Appalachian Mountains with lots of winding roads and turns, and you need something that handles well. Here you might sacrifice treadwear in favor of grip and handling.
How to Buy Tires
Start by searching for your make, model, year and trim level at the top of any Tire Agent page. Then make sure the size recommendations match your vehicle's size. Tire Agents tire-matching software will suggest a number of options for your vehicle, and you can select and compare based on your budget, driving style, and personal preference.
We know that buying tires can be confusing with so many options. Our agents are standing by to help you choose the right tire for your vehicle. Click to call (833) 847-3463, use the live chat feature in the bottom left of your screen, or write to us at [email protected]